HVR Rules for Cars and Drivers – HVR Licensing
HVR Rules
To download a quick & easy printable version of the rules packet, click here: HVR Racing, Car, and Driver Rules
The rules packet covers all of the following:
General membership rules
Driver eligibility
Vehicle eligibility
Vehicle preparation
Clarifications & exemptions of classes
Safety equipment
Technical inspections
Driver etiquette
Original SCCA Rule Books – Click to view or download full PDF file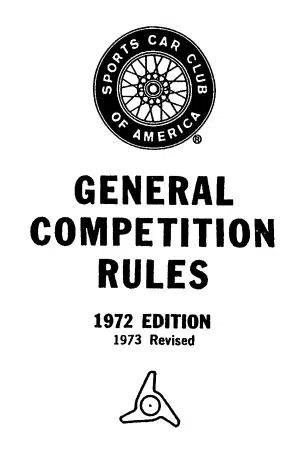 HVR Vehicle Declaration Form
Each year, Heartland Vintage Racing requires a new Vehicle Declaration Form for any car you plan on racing at one of our events. Please download and complete this form, then submit it along with your tech inspection sheet at your annual inspection. 
HVR Licensing Contact
Heartland Vintage Racing
Attn: Kenny Barnett
PO Box 302, Kearney, MO 64060
918-697-4754
kbarnettfarms@yahoo.com
General Licensing Information

Heartland Vintage Racing is a member organization of The Vintage Motorsports Council (VMC), and we adhere to the VMC Licensing process.  In order to compete in an HVR sanctioned event, all competitors must currently either hold a license from a VMC-sanctioned organization or begin the application process. To begin the process, applicants are required to:
Be at least 16 years of age
Complete an HVR-approved vintage racing school (regardless of previous racing experience)
HVR Licensing Process
To be issued a license, HVR requires that all competitors, regardless of your racing background, complete a vintage racing school. These schools usually run the course of a two- or three-day weekend, and must be completed fully without any incident or rule infraction. After successful completion of the school, three more full competition weekends as a Novice driver must be completed within a 12-month period – all without incident or infraction – in order to qualify for an HVR license.
Once the school and three competition weekends are successfully completed, the applicant will send the following to the HVR Licensing Contact, who will in turn submit them to the HVR:
Check for $25, made payable to Heartland Vintage Racing
A passport-sized headshot photograph (either physical or digital)
The license will then be issued by HVR and sent directly to the driver. The expiration date will be based on the date of the doctor's signature (medical form) and the driver's age.
Vintage Racing School
To enter an HVR Vintage Racing School, competitors must be a current HVR member in good standing, and have submitted the aforementioned licensing application and medical forms. In addition, an entry form for the race-prepared car must have also been submitted. See the HVR Racing and Car Rules to ensure your vehicle complies.
Following the successful completion of the HVR Vintage Racing School, the competitor will be issued a Novice Permit, and is eligible to enter in three more competition weekends in order to complete the VMC licensing requirements.  At each of these events, the driver will be judged by the Chief Steward and the driver's group peers. Please note: upon successful completion of each of these weekends, it is the driver's responsibility to get the Chief Steward to sign off on his/hers Novice Permit.
Questions?
Please direct all questions to:
Heartland Vintage Racing
Attn: Kenny Barnett
PO Box 302, Kearney, MO 64060
918-697-4754
kbarnettfarms@yahoo.com