Story by HVR Member Russ Sifers
The original Lake Garnett Grand Prix was sanctioned by the SCCA from 1959 to 1972.  It is a 2.8 mile public road course around a fishing lake in a small park in Garnett, KS (population 3,253) which is about 75 miles south of Kansas City.  Lake Garnett has quite a history, but as sports cars became more powerful and faster, the course became too dangerous, so the races were stopped, and it became a Ghost Track.
In 2014 C.B. Harris and others revived the "ghost track", added a car show, an autocross and rides around the course at speed for charity (VALOMILK Charity Rides).  It is now called the Lake Garnett Grand Prix Revival and I have participated in all of the six years.  It is the high point for me each year to run my 1949 MG TC in the Historic Group and give Charity Rides.
This year we celebrated Lake Garnett's 60th Anniversary.  We had two Grand Marshals: Toly Arutunoff who raced in the first year 1959 with a 1957 Porsche Carrera GS and Brian Haupt who raced in the last year 1972 with a 1962 Austin Healey Sprite.  Toly raced his 2002 Qvale Mangusta and Brian raced his' 83 Mazda RX7 this year.
We now have various groups from the "gentleman" groups with set speeds and rules (my Historic Group is one of these) all the way up to the Heartland Vintage Racing group which has their own rules and oversees the vintage racing class.
Heartland Vintage Racing (HVR) is all about preserving and enjoying vintage racing.  Lake Garnett is excited to have them come each year to our vintage course.  They are a fun group of guys who come from all over (OK, TX, IA, KY, KS and MO) to race.  This year we had about twenty HVR cars race and they put on quite a show.  They raced three times on Saturday and twice on Sunday.  In a special surprise Sunday after the lunch break, the HVR cars came around the course two wide on the narrow two-lane road, much to the excitement and enjoyment of all the spectators who crowded the fence line for photos.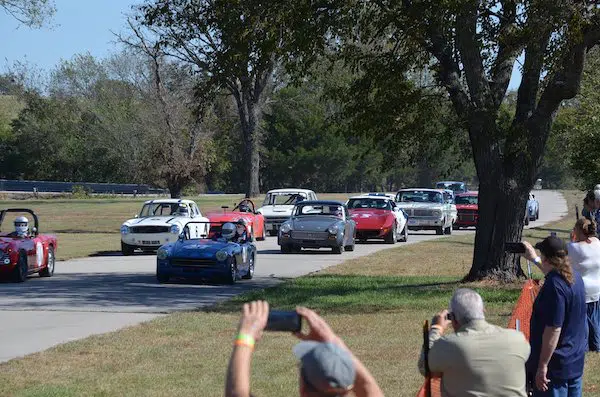 Here's what some of the HVR members who participated in this year's event had to say:
Jim Macaulay raced his '73 Corvette at Lake Garnett this year for the first time.  He said Lake Garnett is an "epic event for car guys, the unique character of Lake Garnett – narrow roads, every turn is an adventure, elevation changes and blind corners.  The parade downtown to the car show was an unbeatable slice of Americana."
Harvey Kinnard has been at Lake Garnett in his '62 TR4 the last three years and raced at Heartland for several years.  Harvey loves the history of Lake Garnett and said, "I feel like, and hope, we honor those who proceeded us as we race."
Clancy Schmidt said, "I've been racing 47 years.  Garnett scares me.  I can't imagine going into the Dam at Garnett trying to out brave a competitor.  I pay close attention to car placement."  Clancy ran his Austin Healey Sprite at Hallett on Friday and Saturday this year, and then came to Lake Garnett to race on Sunday!
Chuck Grauel raced various cars at Lake Garnett from '66 to '72 and still races now.  He remembers the old course as dangerous, the road being the same two lane width but with trees near the road.  Chuck said they would have two formula cars side by side on the stone bridge!  He says that the crown on today's road is higher (others have said this too) but the road is smoother and the edges are better but still no curbs.
Dennis Paul raced his '69 Boss 302 and said, "I thoroughly enjoy coming to the LGGPR, I like the people and the track.  I always volunteer to give Charity Rides.  To physically be where history has been written always has a special meaning to me."
I have enjoyed the Heartland Vintage Racing Group at Lake Garnett so much that I joined as an associate member.  Would I like to join them and race at Lake Garnett in the dust of legends?  Oh, yes!  But this 71-year old driver with his 70-year old MG is way out of their league.  I will stay with the Historic Group and Charity Rides.
At the end of the fun weekend, Toly Arutunoff summed it all up when he autographed his book ("ONE OFF") for me saying, "The only thing sweeter than VALOMILKS is a fast lap around Garnett" and in his other book ("Steering with Your Knees"), "Lake Garnett is an undiscovered JEWEL!"
For more information on the Lake Garnett Grand Prix Revival, visit their website at: http://www.lggpr.org/landing.php